Exploring the Best Ports of Call on an 8-Day Carnival Dream Cruise to the Bahamas
Last week, my family embarked on an exhilarating 8-day cruise on board the Carnival Dream from Galveston, Texas for the Spring Break holiday. The voyage included visits to several exotic ports of call, including Key West, Florida, Freeport, Bahamas, Half Moon Cay, Bahamas, and Nassau, Bahamas. In this blog post, I am excited to share some of the highlights of our unforgettable journey. For all our cruising needs, we always book through Premier Custom Travel, a highly recommended company that possesses extensive knowledge about all aspects of cruising.
Experience the Ultimate Vacation on the Carnival Dream Cruise Ship
The Carnival Dream cruise ship is a magnificent vessel that offers an unparalleled vacation experience for passengers of all ages. With a length of 1,004 feet and a capacity of 3,646 guests, the ship boasts a wide range of amenities and activities to keep everyone entertained throughout the voyage.
The ship features a variety of staterooms that cater to different needs and preferences, from cozy interior cabins to spacious suites with private balconies. Guests can indulge in mouth-watering cuisine at the ship's numerous dining venues, including elegant restaurants, casual eateries, and 24-hour room service.
For entertainment, the Carnival Dream has it all. There are plenty of options to choose from, such as Broadway-style shows, live music performances, comedy clubs, and more. The ship also has multiple swimming pools, a water park with thrilling slides, a mini-golf course, and a sports court for active passengers.
If relaxation is what you seek, the ship has a luxurious spa, a peaceful Serenity Adult-Only Retreat, and plenty of lounges and bars to unwind in. Kids and teens will also have a blast at the onboard youth programs, which include age-appropriate activities and clubs.
With its impressive range of amenities, the Carnival Dream cruise ship promises to provide an unforgettable vacation experience for all passengers.
Carnival Dream Cruise Day Sail Away and Sea Day: Embarking on an Exciting Sea Day en route to Key West, Florida
My wife, Laurie, and I kicked off each morning of our Carnival Dream cruise with coffee from the Ocean Plaza specialty coffee shop on the Promenade - Deck 5. I would make the walk down from our Verandah - Deck 8 balcony room, opting to take the stairs for some extra exercise (with the occasional cheat of the elevator). Meanwhile, Laurie headed up to the Panorama - Deck 11 to secure some shaded lounge chairs on the quieter side of the ship, where we could relax and read the day away.
Of course, food and drink were never far away, with Guy's burgers, bars, and attentive waitstaff always at the ready. For dinner, we chose the Anytime Option through the Carnival app, which gave us an approximate time to be seated. However, we found the timing estimates to be somewhat unreliable and often had to scramble to claim our table before getting kicked out of the queue.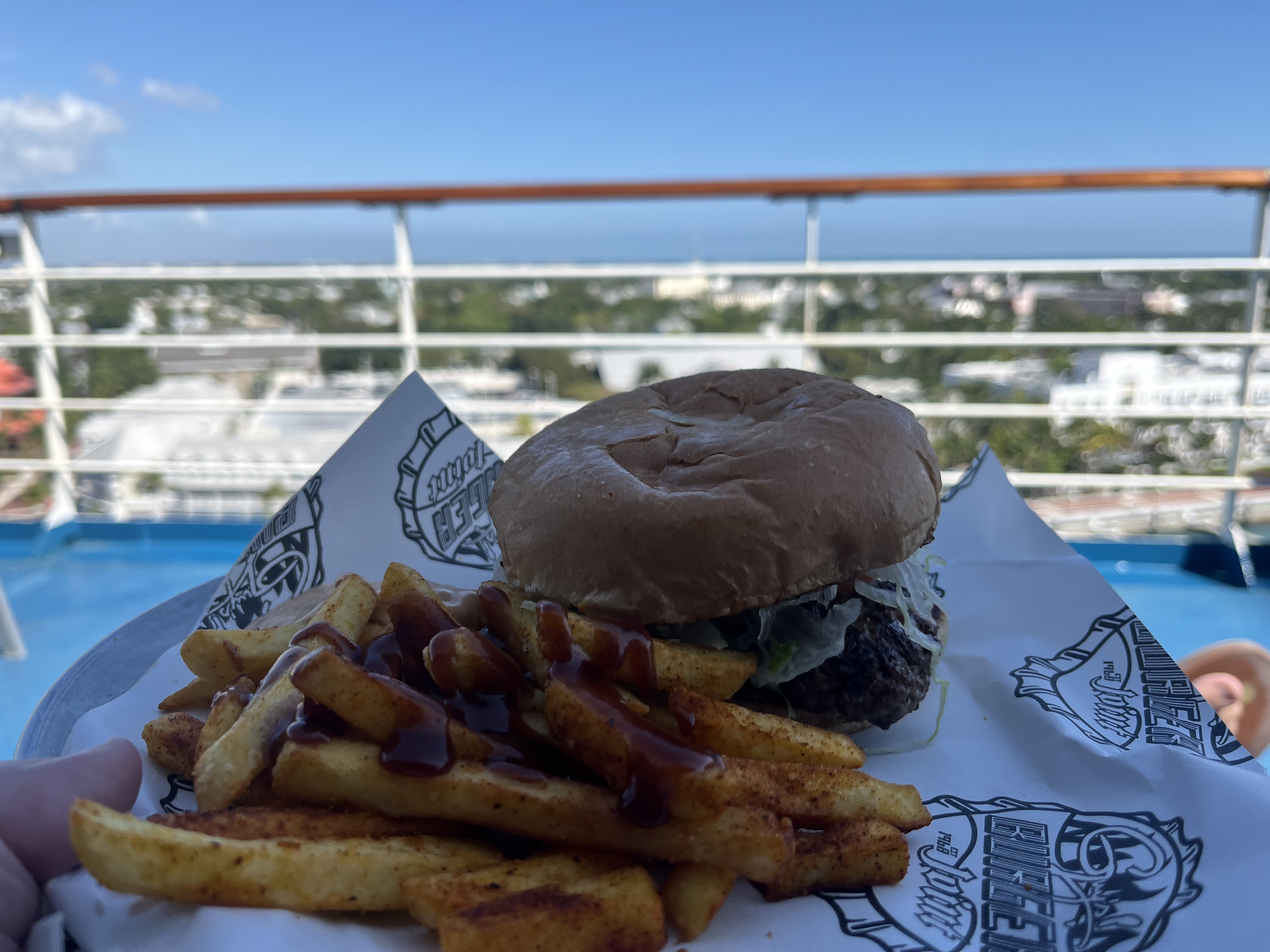 As we sailed away from Galveston towards Key West, we opted to skip the Sail Away Party and instead enjoyed the ship's entertainment offerings from the comfort of our balcony. The first day at sea featured an array of activities, including Country Music with Buck & Oz, High Seas Karaoke, Variety Violin Music with Art Shake Trio, craft cocktails at the Alchemy Bar, Piano Bar Fun with Guy Tony, and comedy shows at the Punchliner Comedy Club featuring Caroline Picard and R.T. Steckel.
Overall, our first day at sea on the Carnival Dream was a perfect mix of relaxation, entertainment, and exploration as we set our sights on our next port of call.
Exploring Key West, Florida: Our First Port of Call on the Carnival Dream Cruise Ship
During our cruise, Key West, Florida was a highly anticipated destination that did not disappoint. Our first stop was Fort Zachary, where we explored the fort and enjoyed the beach despite the rough waves caused by the red flag day. Entry for walk-ups was only $2 per person, making it a budget-friendly excursion. Later, we took an Uber to Kermit's Key West Key Lime Shoppe, where we indulged in delicious key lime pie on a stick dipped in chocolate. After a short walk back to the ship, we spent the rest of the day relaxing and taking in the entertainment, while our kids socialized with friends made on the first night of the cruise. Oh, and if you are at Key West around sunset, it is a must watch.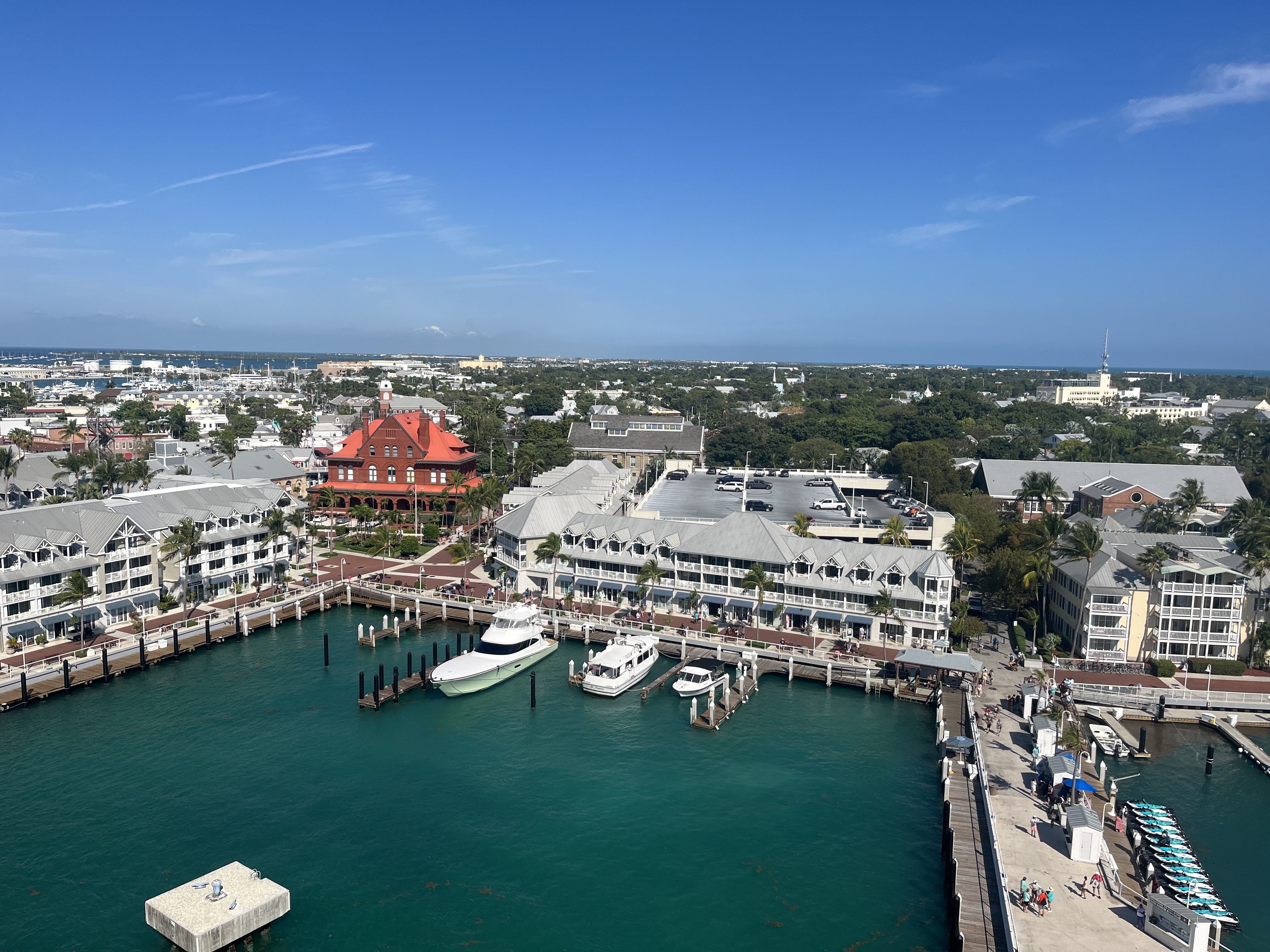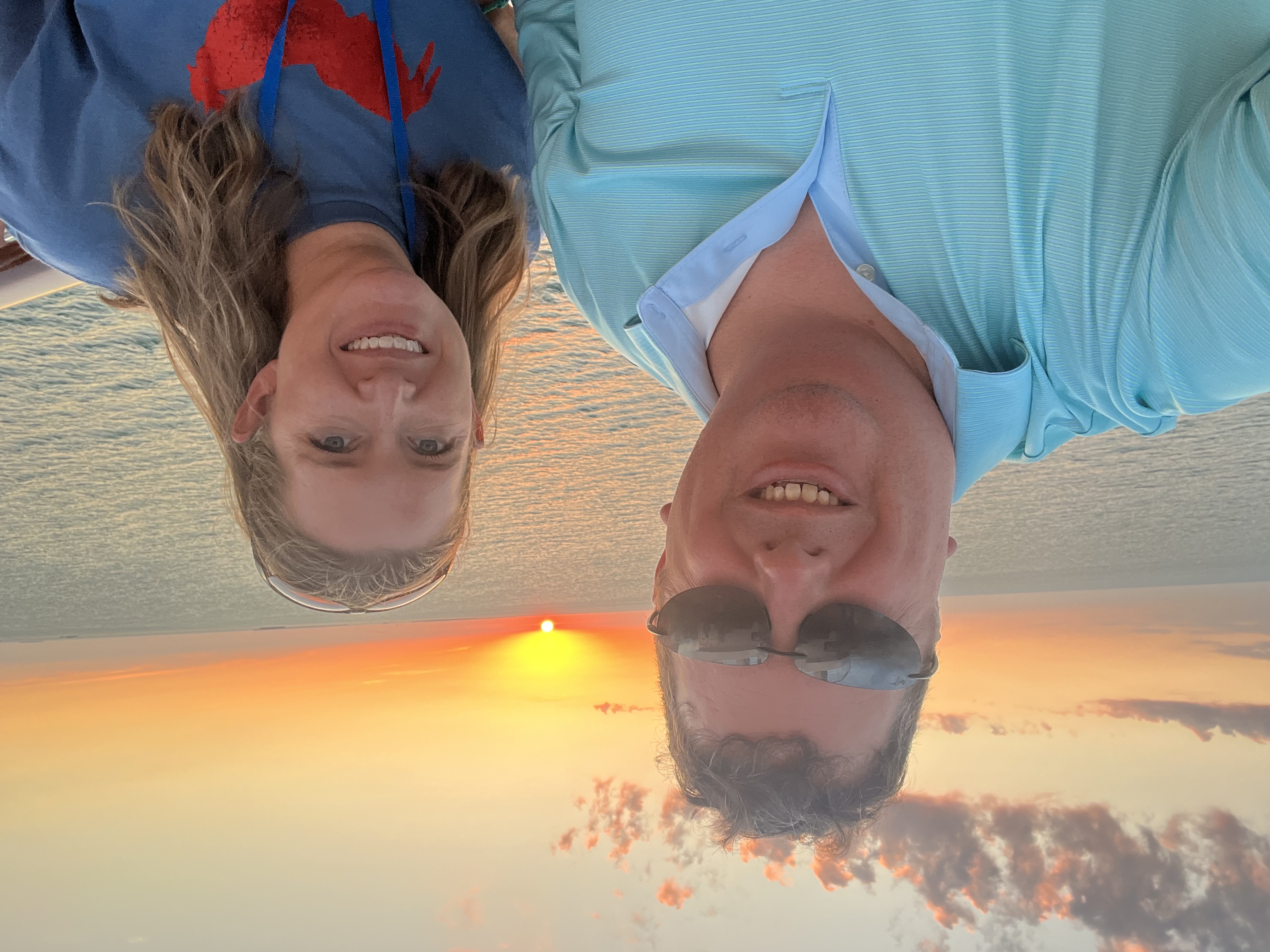 Exploring Ft. Zachary: A Day Trip to the Beach and Historic Fort in Key West, Florida
Fort Zachary Taylor Historic State Park is a popular destination for tourists visiting Key West, Florida. Located at the southern tip of the island, it offers a beautiful beach with clear water and a historic fort to explore. The park is named after President Zachary Taylor, who ordered the construction of the fort in 1845 to protect the country's southern coastline during the Mexican-American War.
The fort played a key role in the Civil War, where it served as a Union stronghold and a base of operations for the blockade of Confederate ports. In the 1890s, the fort was modernized with concrete gun batteries that still remain today.
Visitors to the park can take a guided tour of the fort, which includes a museum with exhibits on the fort's history and artifacts from the Civil War era. There are also picnic areas, nature trails, and snorkeling opportunities at the beach.
One of the unique features of Fort Zachary Taylor Historic State Park is its rocky shoreline, which is unlike most of the sandy beaches in the area. This rocky coastline creates a habitat for a variety of marine life, making it a popular spot for snorkeling and diving.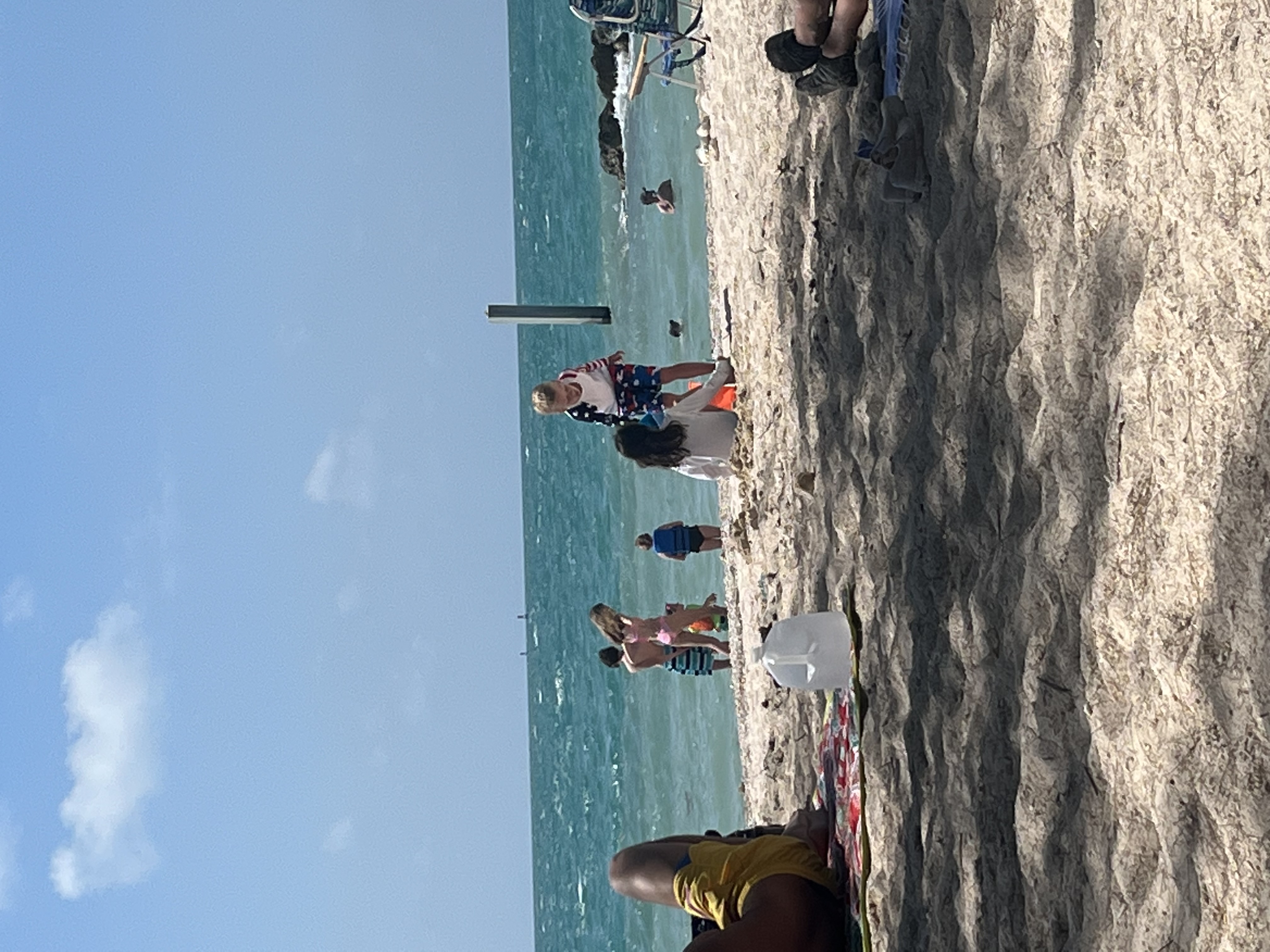 The park charges a nominal entrance fee, and visitors can also rent beach chairs, umbrellas, and snorkel gear for an additional fee. Overall, Fort Zachary Taylor Historic State Park is a great place to spend a day soaking up the sun, exploring history, and experiencing the natural beauty of Key West.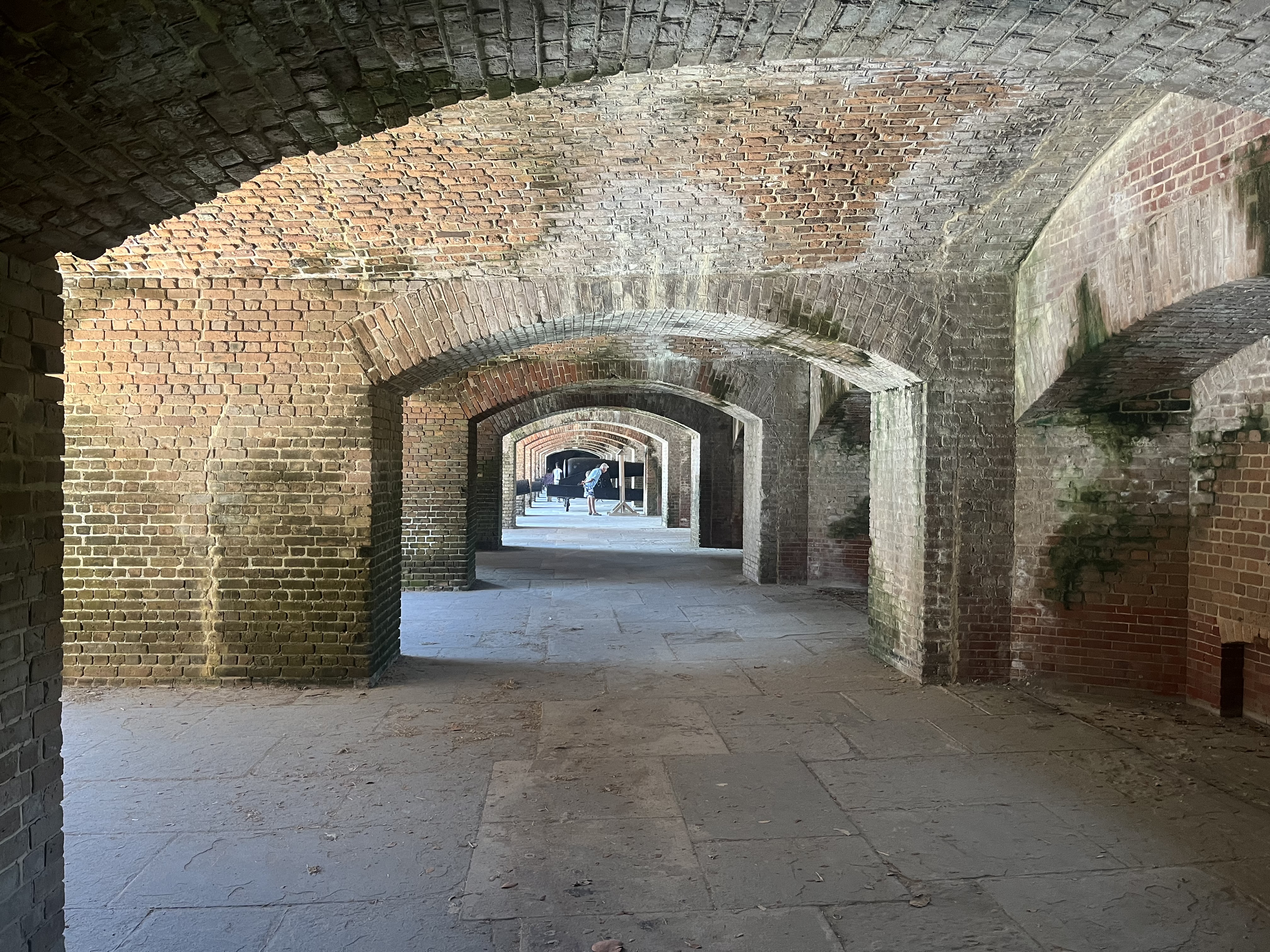 Kermit's Key West Keylime Shoppe: A Must-Visit Destination in Key West, Florida
If you're a foodie visiting Key West, Florida, a trip to Kermit's Key West Keylime Shoppe is an absolute must. The small shop is located in the heart of Old Town and specializes in everything key lime. From classic key lime pie to key lime cookies, sauces, and even key lime salsa, this shop has it all.
One of the most popular treats at Kermit's is their key lime pie on a stick dipped in chocolate. This unique twist on the classic dessert is the perfect sweet treat to enjoy while strolling around the island. And if you're looking for a refreshing drink, they also serve up delicious key lime margaritas and daiquiris.
In addition to the tasty treats, the shop also sells a variety of souvenirs and gifts, including key lime-themed t-shirts, mugs, and keychains. Plus, you can even take a bottle of their famous key lime juice home with you to use in your own cooking.
Overall, Kermit's Key West Keylime Shoppe is a must-visit destination for anyone traveling to Key West. With its delicious treats and unique gifts, it's a great way to get a taste of the island's famous key lime flavor.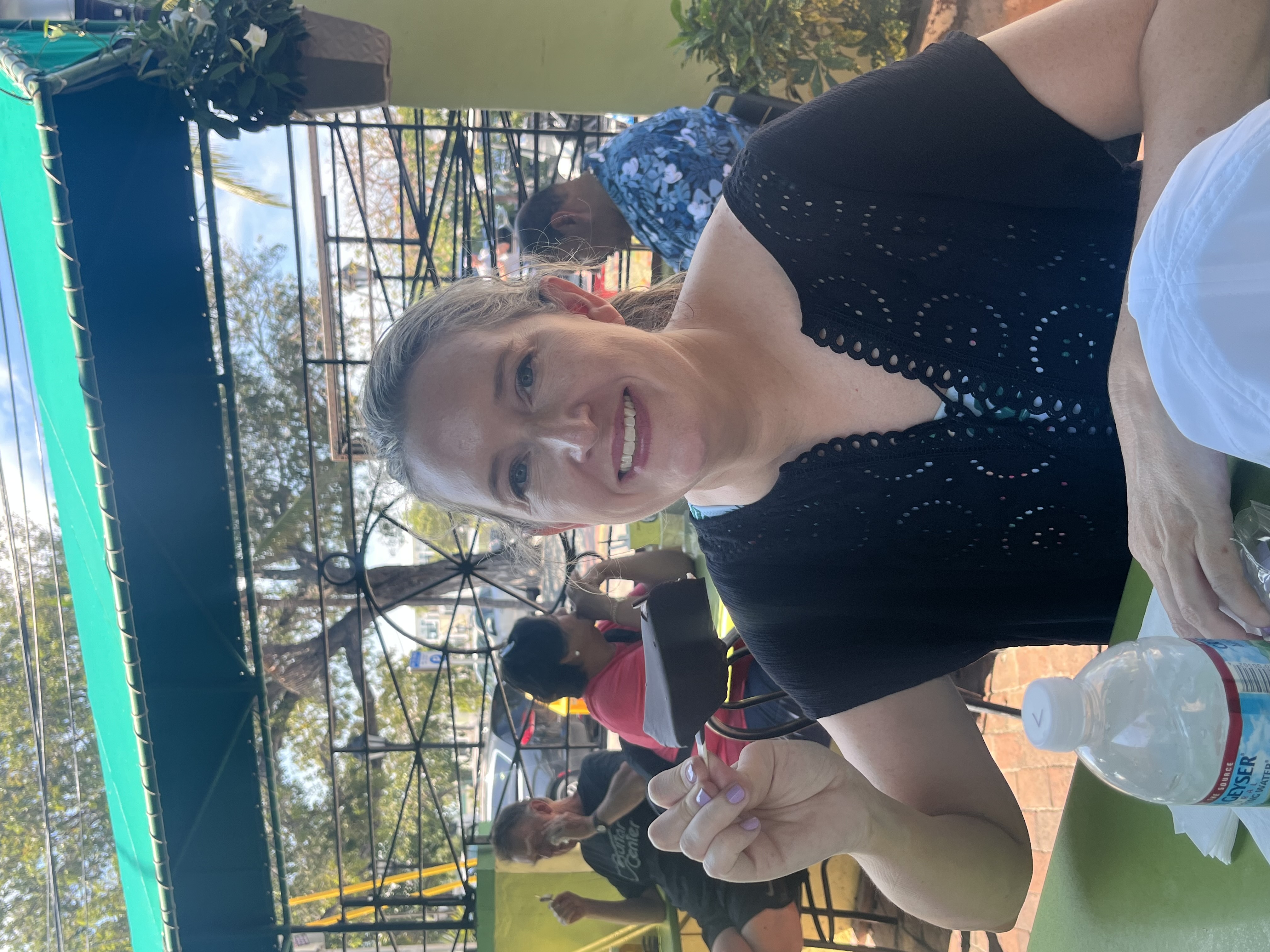 Exploring Freeport, Grand Bahamas Island: Our Second Port of Call on the Carnival Dream Cruise Ship
On the following day of our cruise, we docked at Freeport, Bahamas, and embarked on an adventure to Crystal Beach for an eagerly anticipated swimming with pigs excursion, a bucket list experience for our daughter. However, we encountered some confusion while connecting with our tour and transport vehicle at the outset. We enjoyed a semi-private tour, and the pigs, when called, ran from the beach to the water to eat apples off skewers. We even had the chance to hold the pigs, despite the overpowering stench. The highlight of the excursion was holding the baby pigs and taking pictures in a separate pen on the shore. Afterward, our quirky Bahamian driver, Zelda, drove us back to the ship. Later that evening, after a nap and dinner, we enjoyed the entertainment on the ship, although there were no comedy shows due to the entertainers transferring between ships.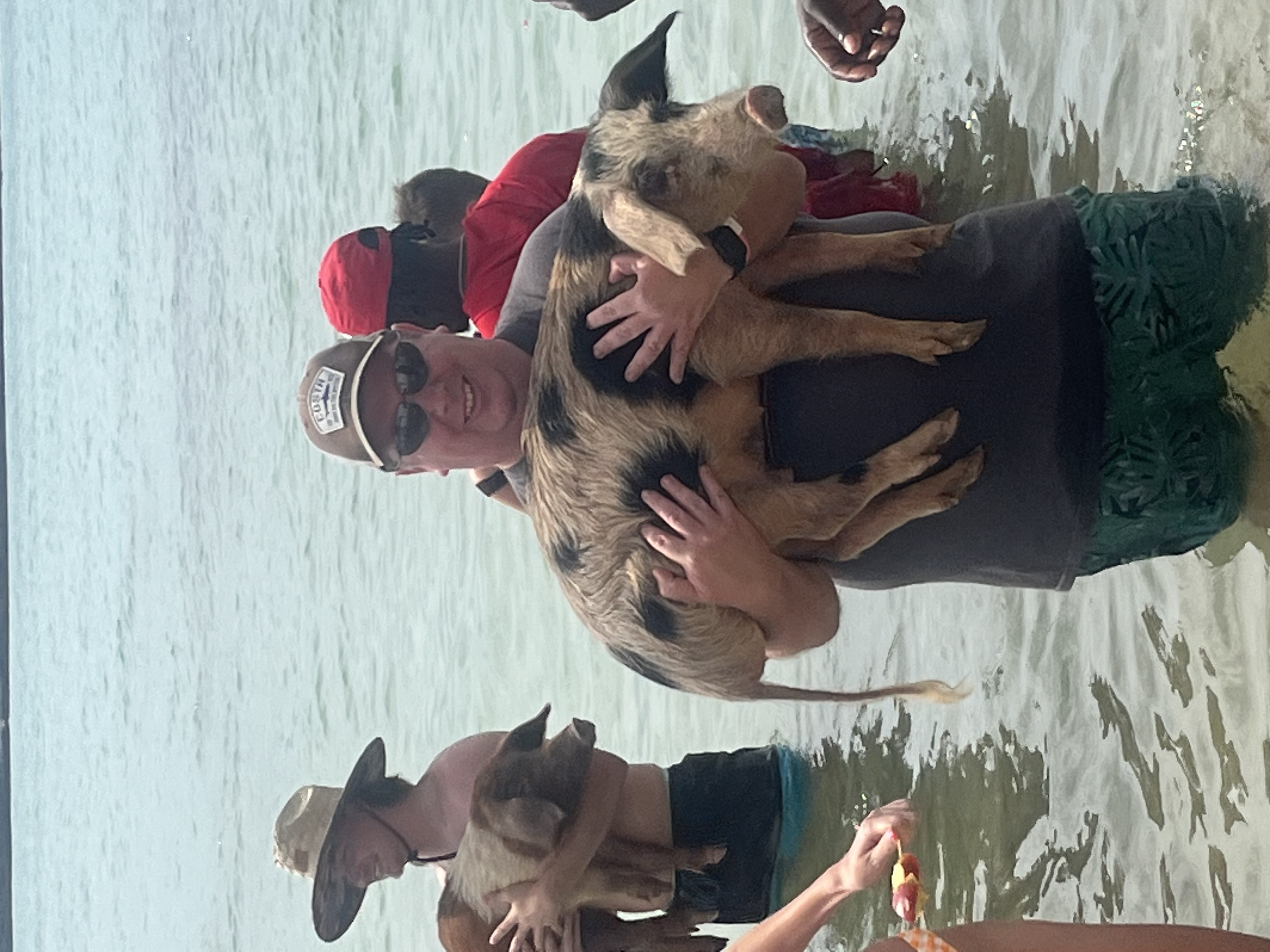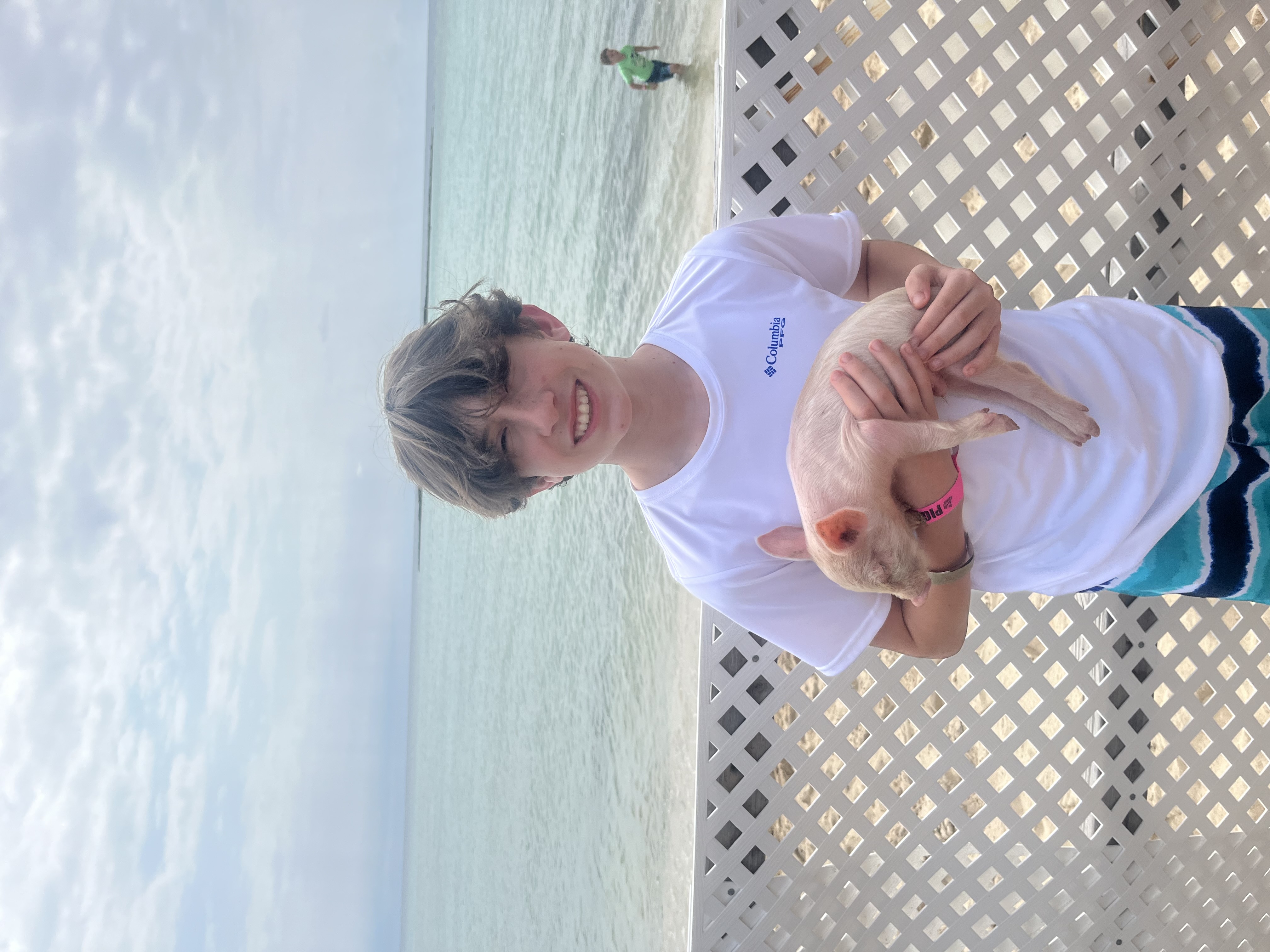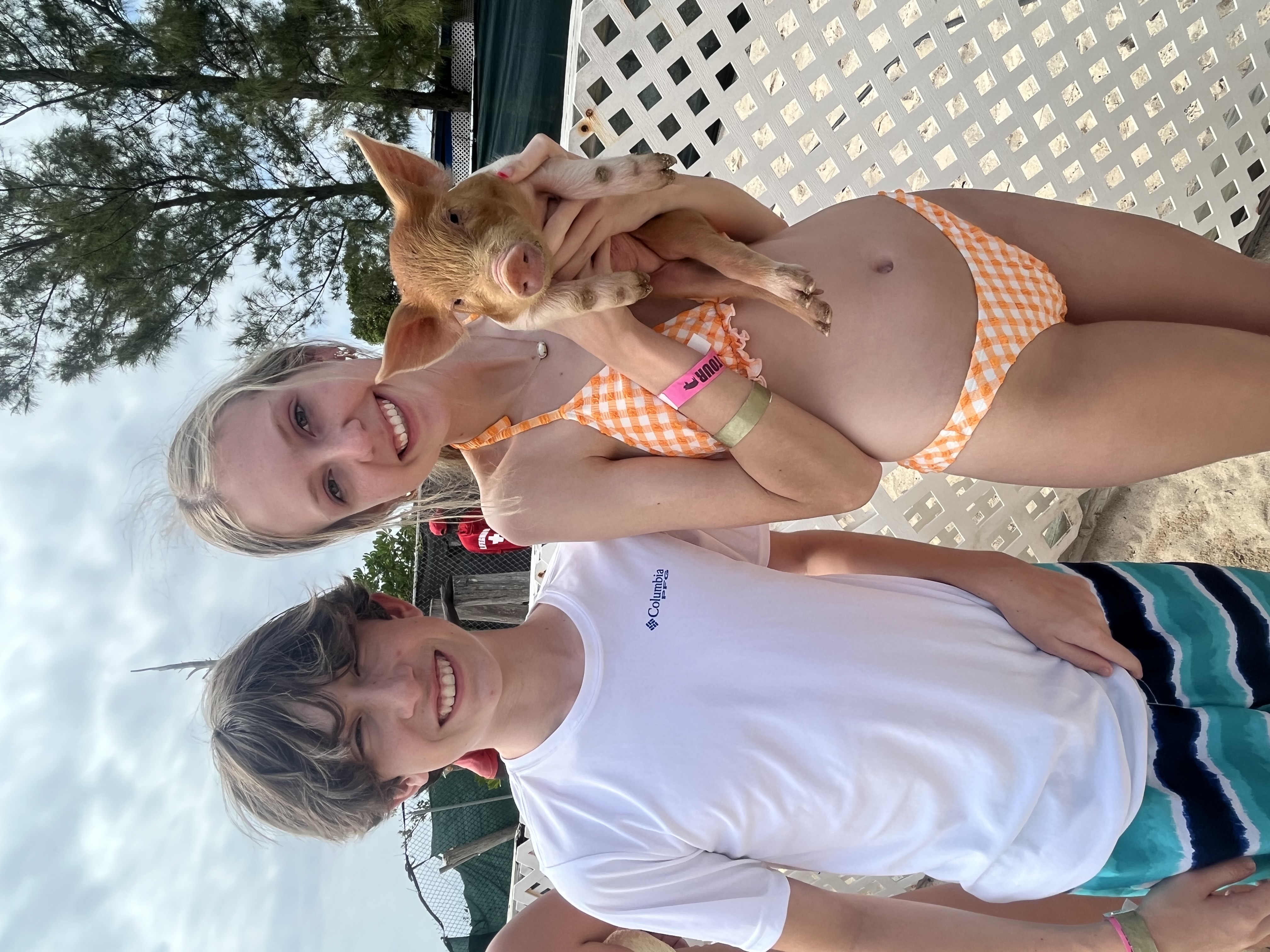 Exploring Half Moon Cay - Carnival's Private Island: Our Third Port of Call on the Carnival Dream Cruise Ship
The third stop on our cruise was Half Moon Cay, Carnival's exclusive island nestled in the Bahamas. However, to access the island, we had to undergo the dreaded process of tendering from the ship, which is one of my least favorite parts of cruising due to the long wait times. But once we reached the island, the stunning view of the long, unspoiled beach and clear blue water made up for it. The sand was very fine and soft, and the water was crystal clear, making it the perfect spot to relax and enjoy the sun. After a few hours, we returned to the ship for some rest and dinner, followed by a night of fun activities, including Caribbean Sounds with Allan G, Buck & Oz's Country Music, the America Rocks concert in the Encore!, High Seas Karaoke, and a few drinks at the Alchemy Bar.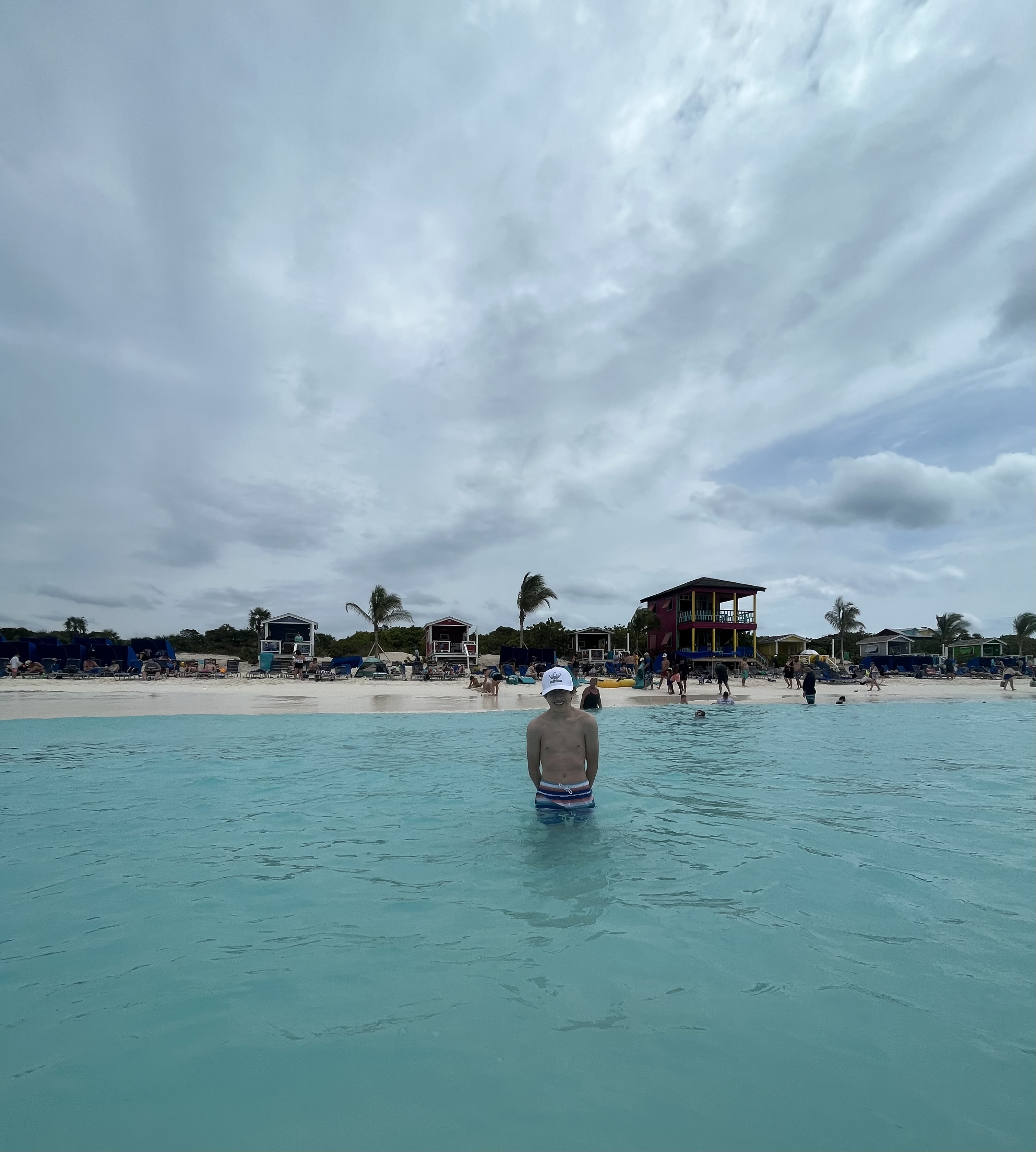 Learn More About Half Moon Cay
Half Moon Cay is a private island in the Bahamas, owned by the world's largest cruise line, Carnival Cruise Line. It was formerly known as Little San Salvador Island before being renamed in 1997. The island is located about 100 miles southeast of Nassau and 20 miles from the island of Eleuthera.
The history of Half Moon Cay dates back to the early 17th century, when it was first discovered by the British explorer, Henry Hudson. In the early 18th century, the island was used by pirates and privateers as a base for raiding nearby Spanish galleons. Later on, the island was used for agriculture and was home to a small community of farmers and fishermen.
In the 1970s, the island was purchased by Norwegian Cruise Line, which planned to develop it into a private island for their passengers. However, due to financial difficulties, the project was abandoned and the island was eventually sold to Holland America Line (HAL), a subsidiary of Carnival Corporation & plc, in 1997.
HAL invested heavily in the island, developing it into a world-class destination for their passengers. They built a deep-water harbor, a variety of amenities and facilities, and an extensive nature reserve, which includes a bird sanctuary and a pristine beach. They also worked closely with local authorities to ensure that the island's natural beauty was preserved and protected.
In 2013, Carnival Cruise Line announced that they had purchased HAL's stake in Half Moon Cay, making it a fully-owned subsidiary of the company. Today, the island remains one of the most popular destinations for Carnival's passengers, offering a wide range of activities and attractions, including water sports, horseback riding, and guided tours of the island's natural wonders.
Exploring Nassau, Bahamas: Our Fourth Port of Call on the Carnival Dream Cruise Ship
Our fourth and final port of call before returning to Galveston was Nassau, Bahamas. Upon arriving, we couldn't help but notice the impressive amount of construction and upgrades to the port. We caught a taxi to Ardastra Gardens & Wildlife Conservation Centre, a small but well-maintained zoo featuring various animals in a beautiful garden setting. The highlight was the "trained" flamingo show where our kids even had the chance to participate. After a couple of hours, we walked to the famous Fish Fry area consisting of several restaurants. While our kids stuck to the less exotic chicken fingers, my wife and I tried the red snapper fish snack, which was an entire redfish fried and served with french fries. Following our delicious lunch, we walked to Junkanoo beach near the port and soaked up some sun. On the way back to the ship, we stopped at the famous straw market. After a nap and dinner, we followed our typical port of call routine and enjoyed the evening entertainment, including two new comedians on the ship, Dave Goodman and Vanessa Hollingshead.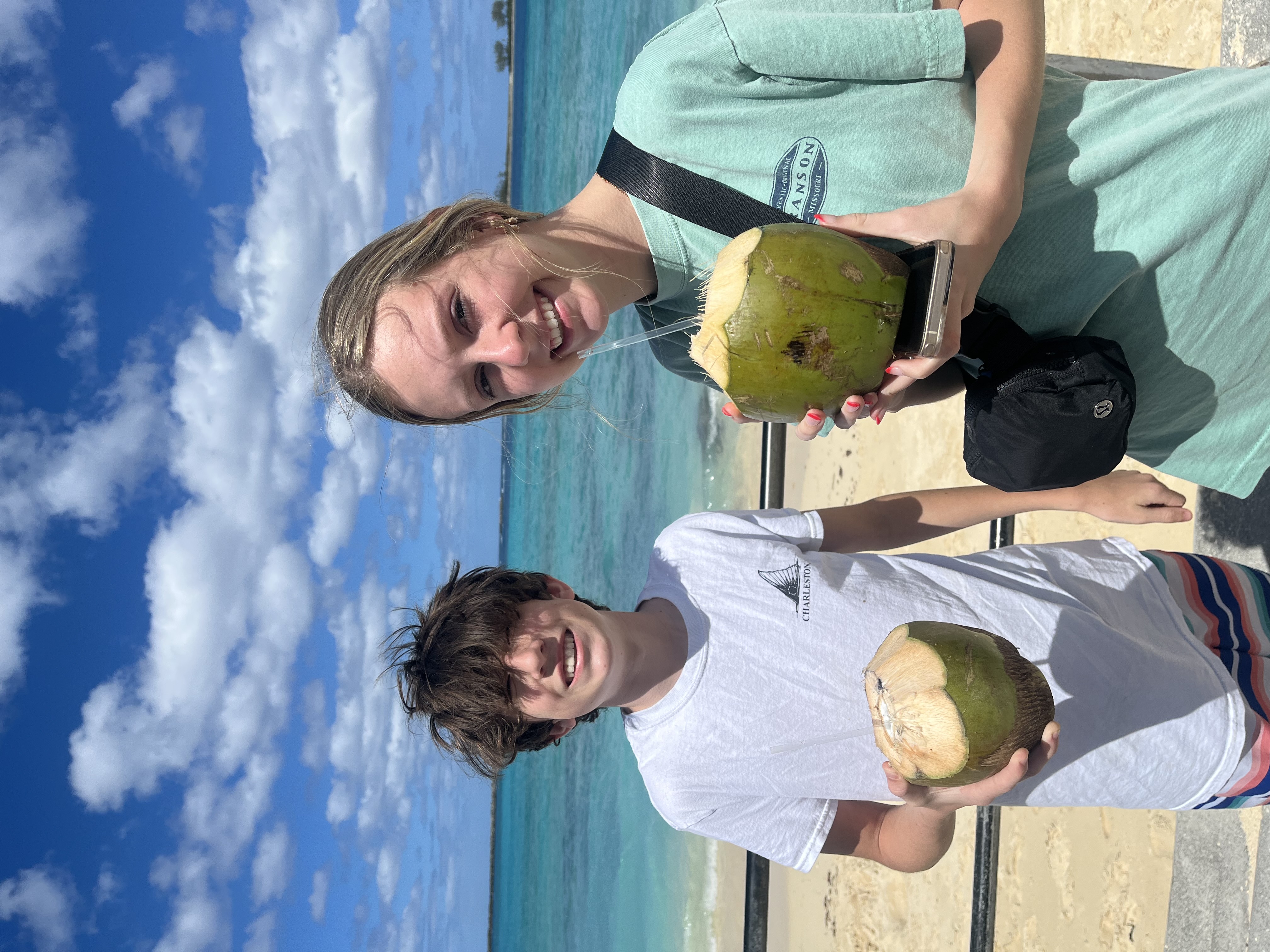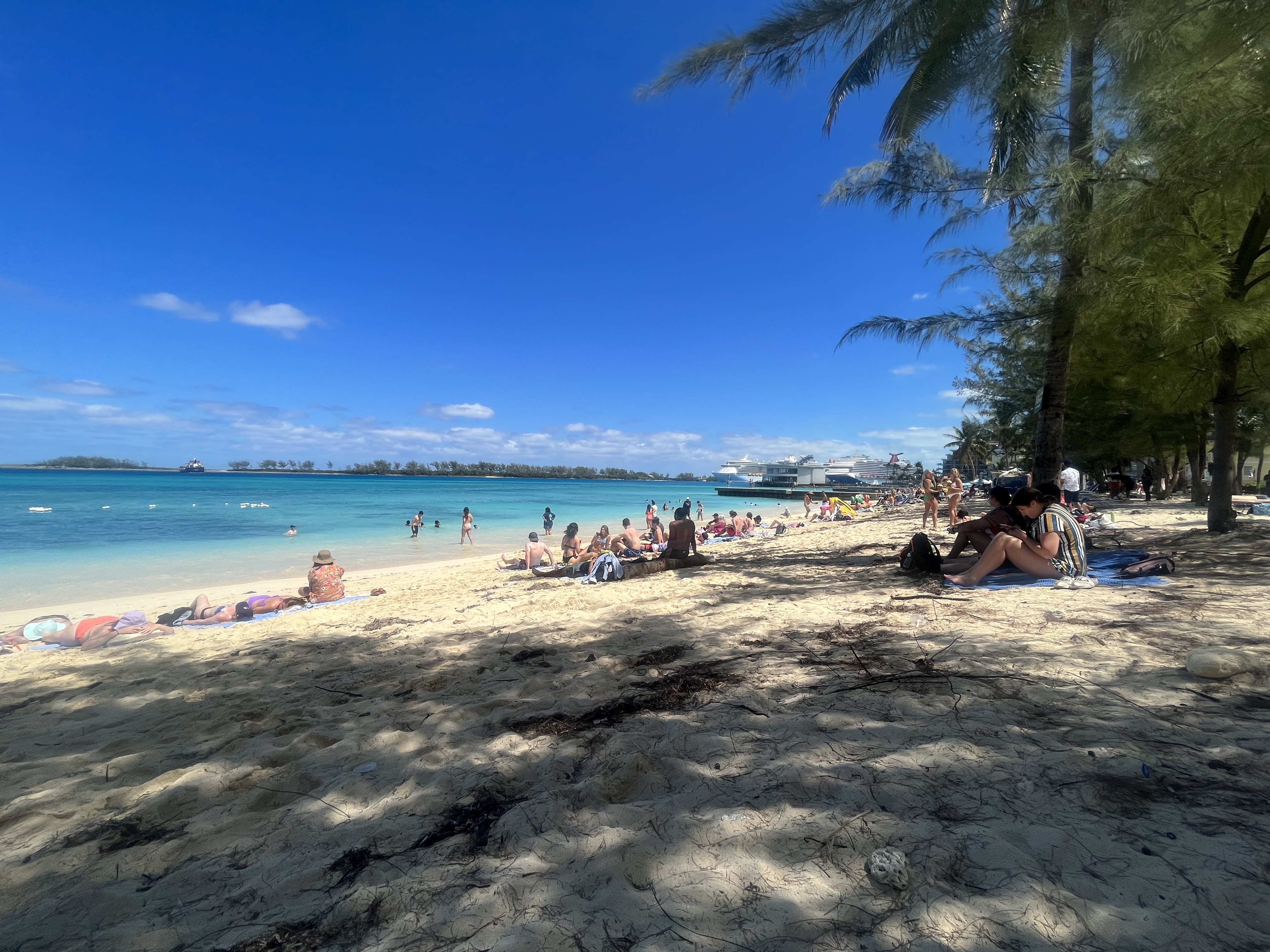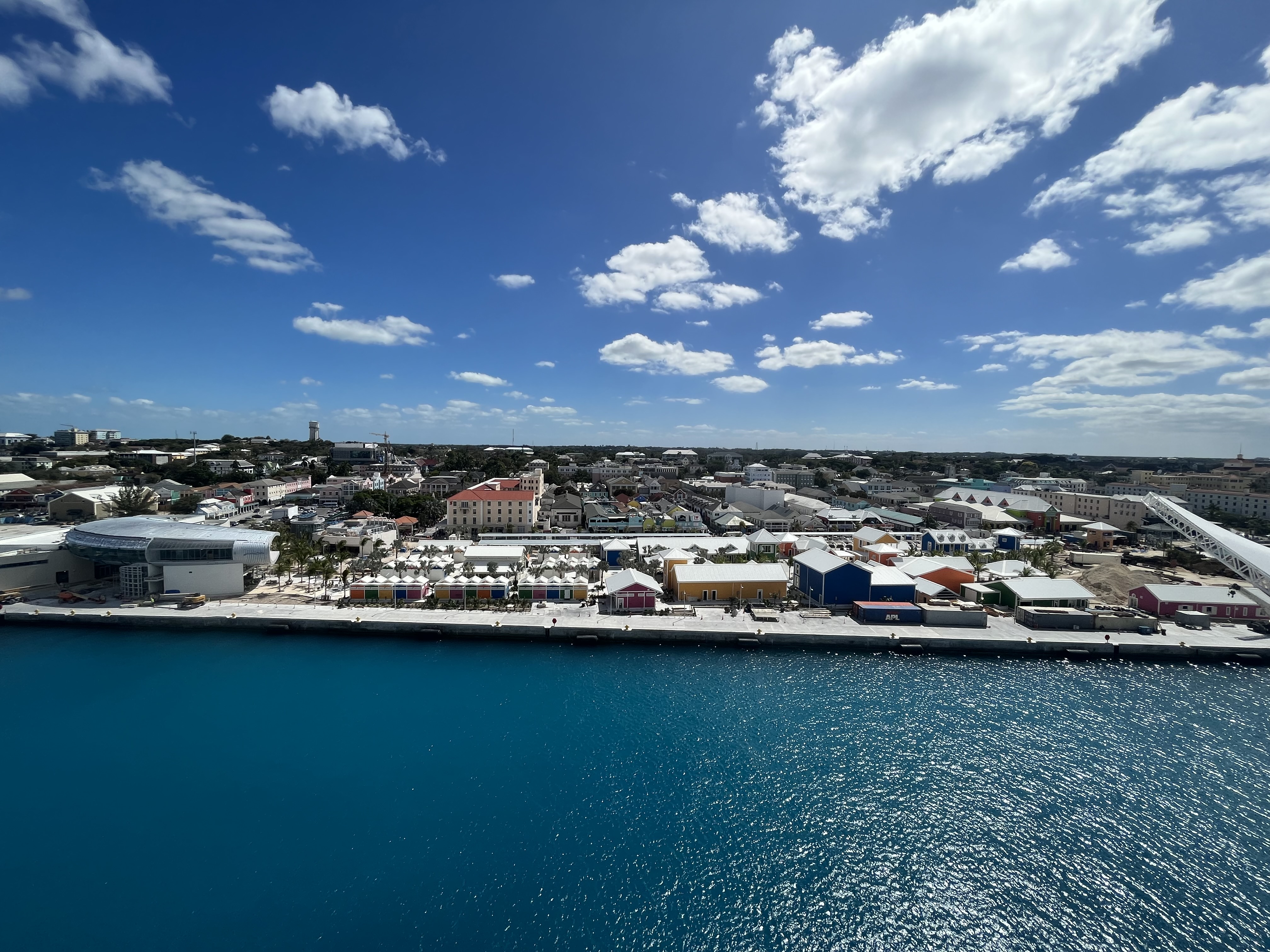 Learn More About Ardastra Gardens & Wildlife Conservation Centre
Ardastra Gardens & Wildlife Conservation Centre is a small zoo and conservation center located in Nassau, Bahamas. The center was established in the 1950s by a Jamaican horticulturist and businessman, Hedley Edwards. Edwards initially purchased the property to create a garden for his wife, but it soon evolved into a wildlife center after he started to take in animals from circuses and private collections.
In the 1960s, Edwards added a breeding program for the Caribbean Flamingo, a species native to the Bahamas, and started training them to perform in shows. Today, the center is known for its Flamingo show, which is a highlight for visitors.
Ardastra Gardens & Wildlife Conservation Centre has also been involved in conservation efforts, particularly for the Bahamian parrot, which is an endangered species. The center has a breeding program for these parrots and works to reintroduce them into their natural habitat.
Over the years, the center has expanded to include other animal exhibits, such as the Bahamian boa, Madagascar lemur, and a variety of birds. It has also developed beautiful gardens and walking paths that showcase the natural beauty of the Bahamas.
Ardastra Gardens & Wildlife Conservation Centre remains a popular attraction for visitors to Nassau and continues to educate and inspire people about the importance of conservation and protecting wildlife habitats.
Learn More About the Fish Fry
The Fish Fry business on Nassau, Bahamas, is a popular attraction for tourists and locals alike. It is a collection of seafood restaurants located in the Arawak Cay area of Nassau. The history of the Fish Fry business dates back to the 1950s when it was established by a group of Bahamian fishermen who used to sell their catch on the beach.
The fishermen would cook their catch on the beach, and people started to come to enjoy the fresh seafood. The Fish Fry business quickly became popular among the locals and tourists who would come to enjoy the delicious seafood and the relaxed atmosphere. Over time, more and more restaurants were established in the area, and the Fish Fry business became a popular destination for visitors to Nassau.
Today, the Fish Fry business is a thriving industry on the island, with over a dozen restaurants serving fresh seafood dishes. The area has become a hub of Bahamian culture, with live music, dancing, and entertainment attracting visitors from all over the world.
In recent years, the Fish Fry businesses have faced challenges due to the impact of Hurricane Dorian, which caused significant damage to the island's infrastructure. However, the business owners have worked hard to rebuild and continue to offer a unique dining experience for visitors to the island. The Fish Fry business remains an important part of Nassau's history and culture, and a must-visit destination for anyone looking to enjoy fresh seafood and experience the Bahamian way of life.
Learn More About the Straw Market
The Straw Market in Nassau, Bahamas is a popular tourist attraction that has a rich history dating back to the early 1940s. The market is located in downtown Nassau and has over 500 vendors selling a variety of handcrafted goods made from straw, shells, and other materials.
The market was originally established in the late 1940s by a group of Bahamian women who were looking for a way to sell their handmade straw goods to tourists. The market started out as a small group of vendors selling their goods on the side of the street, but it quickly grew in popularity and size.
In the 1950s, the Straw Market was moved to a new location on Bay Street, which was more centrally located and easier for tourists to find. The new location allowed the market to expand and attract more vendors and visitors.
Over the years, the Straw Market has faced numerous challenges, including fires, hurricanes, and economic downturns. In 2001, a devastating fire destroyed the entire market, but it was quickly rebuilt and reopened within a year.
Today, the Straw Market is a bustling marketplace that attracts thousands of visitors each year. The market offers a variety of goods, including hats, bags, baskets, dolls, and other handmade items. The market is an important part of the Bahamian economy and a source of pride for the local community.
Carnival Dream Cruise 2 Days at Sea: The Trip Back to Galveston, Texas
As with all good things, our voyage from Nassau, Bahamas back to Galveston, Texas had to come to an end. The return journey lasted two days. The first day back was graced with beautiful weather, but on Friday night, we encountered a bout of bad weather. This left us with rough seas and wet weather in the 50s for the rest of our journey. Despite this, we still enjoyed all the entertainment on the ship, including the evening show "80s Pop to the Max". What stood out for me was the last 10 minutes of the show, which was a tribute mashup of Michael Jackson songs. On our last night aboard the ship, we had our final specialty cocktail at the Alchemy Bar, bringing a perfect end to a week of adventure and cherished memories with our loved ones.
Premier Custom Travel: Book Your Next Cruise Today
Over the years, we have embarked on numerous cruises from different ports such as Galveston, New Orleans, and Seattle en route to Alaska. As a family, we are immensely grateful to Premier Custom Travel for expertly handling all of our cruise and travel bookings. If you're considering going on a cruise, don't hesitate to contact Premier Custom Travel today. By the way, they also offer assistance for Disney and Sandals vacations.
Learn More About Premier Custom Travel
Premier Custom Travel is a full-service travel agency based in the United States, specializing in cruise and vacation planning. The agency was founded by a team of experienced travel professionals who are passionate about providing personalized travel experiences to their clients.
With a focus on customer satisfaction and attention to detail, Premier Custom Travel offers a range of services to ensure that each client's travel needs are met. They handle all aspects of travel planning, including itinerary creation, booking flights and accommodations, and arranging activities and excursions.
In addition to cruise and vacation planning, Premier Custom Travel also offers Disney and Sandals vacation packages, as well as group travel planning for weddings, family reunions, and other special occasions.
Their commitment to providing exceptional customer service has earned Premier Custom Travel a reputation as one of the leading travel agencies in the industry. With their expertise and personalized approach, they strive to make every trip a memorable experience for their clients.
Unlock Your Potential with Real Estate Coaching! Invest in Yourself and Get the Results You Deserve. Contact Red Hawk Coaching Today!
BOOK A STRATEGY CALL